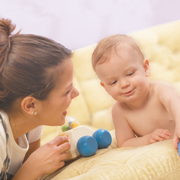 Babies
Babies brains grow rapidly. Reading to babies right from birth stimulates their mind, develops language skills and lays a foundation for later reading success. Babies grow into children who love to read when they experience the warmth and pleasure of cuddling with parents and listening to nursery rhymes and stories. Reading early and often to babies helps develop skills that lead to a lifetime of reading enjoyment. Babies and books belong together, so read to your baby every day!
The West Bloomfield Township Public Library has a great assortment of board books and picture books for babies. We've also created a list perfect for reading to babies the list provides an impeccable assortment of picture books, board books, nursery rhymes and easy to read, coorful books perfect for your baby. Visit the library for the 60 Books for Babies list nursery rhyme booklet to use at home.
The West Bloomfield Township Public Library offers a number of literacy kits. Literacy kits provide a number of amazing educational benefits such as early literacy, math and science skills, sensory skills, and social emotional skills. Each bag has a theme and educational components that provide endless fun. Check out of these amazing literacy kits and see for yourself.