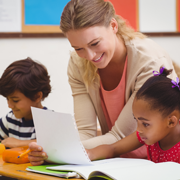 Early Childhood Educators & Providers
Nurture Reading
West Bloomfield Township Public Library partners with early childhood educators in West Bloomfield to help nurture children's curiosity and develop a love for reading.
The library offers materials, programs, and services that support early literacy development in your various learning environments. At birth, children begin developing language and other early literacy skills that lead to reading. Grow Up Reading™ supports early childhood educators by providing resources to promote lifelong learning for you and the children you serve.
The Library is here to help you bring the love of reading into your learning environments!
We look forward to hearing from you and spending some time introducing you to the vast materials and information available at the West Bloomfield Township Public Library.