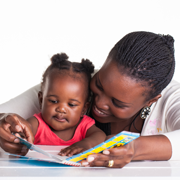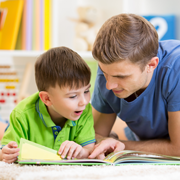 Using Books
Using books in the learning environment is critical for early literacy development. The interrelationship of books and play begins establishing a love of reading and concepts of print. The library offers books in an array of formats.
Our vast Picture Book collection can supplement thematic topics, such as, "Apples" to child development topics, such as, "Going to the potty" or "Sharing."
Read-Alongs provide a different voice for your children to hear reading a story, but don't stop there! They need to see you singing along with Pete the Cat as he rocks it out in his school shoes!
Big Books are the perfect tool for large group reading. When you're done with the reading, use your Wikki Stix to "circle" that letter each child is working on. No, they do not damage the book. :)
With our Board Book collection, you can model and have your children practice-through-play important emergent literacy skills, such as, how to hold a book and which way to turn the pages without worrying about damaging the book. This collection can withstand your 6-month old infant hitting a particular page of a book which is his way of saying, "I LOVE this book! I LOVE this page! Read it again, and again, and again!"
Don't forget the books that are just for you in our Parent/Teacher collection. Have you heard about the benefits of integrating inquiry based learning into your daily routine, but you just don't know what that would look like? Check out the Parent/Teacher Collection and give a STEAM book a try.
Try reading books from the non-fiction section. This area allows children to explore different topics while learning new information, and vocabulary. Pick a topic your child is interested in and ask a helpful librarian to help you find books about a topic.