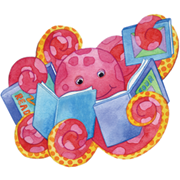 Activities
Pre-Emergent Readers
Have fun with sounds. Make up silly sentences with similar sounds. For example: Silly Sally sells snails and seashells or Happy Henry hops here!
Help your child make connections between print and pictures as you read. Have your child find details in the pictures that might help you read or understand the text.
Use rhyme whenever you can. Use silly rhymes like "cat in the hat or frog on a log" to help your child learn about rhyming words and word families.
Emergent Readers
As you read with your child, have him point out parts of the book such as the front and back covers and the title. Talk about the names of authors and illustrators. Have him/her show you where you should start reading on a page
Choral Reading can be fun. Pick a page out of a book and read it together aloud. Nursery rhymes, songs, and humorous poems are wonderful for choral reading.
Read a story together. Then have your child draw the beginning, middle and end of the story. Have your child retell the story and talk about their favorite parts.
Early Fluent Readers
Have your child read to anyone/everyone. It is important for your child to be successful at reading. So have them read to a sibling, dog, grandparents or parents. Take turns reading so they will learn how fluent readers sound.
Echo reading is a fun way to practice fluency, tone of voice and expression. Read a page, line or part of a story and then have your child echo it back with the same tone, fluency and expression.
After you read a story, ask your child questions. "How do you think the wolf felt in the story?" Questions such as this create open interpretations and encourage retelling and comprehension. They also help your child draw conclusions based on what was read, which is called inferencing.
Fluent Easy Readers
Help your child use the dictionary or thesaurus to check on the meanings of new words.
Reader's Theater allows children to act out a specific book or passage from a book. The repeated readings help a child gain confidence and fluency in reading. Choral readings, echo reading, and reading aloud with family members create great reading opportunities.
Read a famous fairy tale and have your child create a mixed up or fractured fairy tale. Instead of Sleeping Beauty falling asleep, maybe she talks so much that everyone else falls asleep. Create unique ways to write an old favorite. Draw pictures to show the whole story!