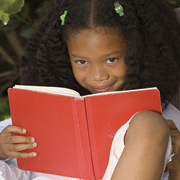 Early Fluent Readers
Books at the early fluent level have smaller type size than pre-emergent and emergent readers, fewer or smaller pictures and more advanced vocabulary. These books also have a more complicated storyline.
Children at the early fluent reading level will:
Read smoothly with few mistakes, and decode unknown words fairly quickly
Continue to use pictures to understand the story, but will rely more on the text for understanding
Be aware of punctuation marks, and use their cues to read more expressively
Activities to do at home:
Practice retelling a story with your child. Read the story aloud together and then have your child retell what they remember. Sequencing the story in order is an important part of comprehension, retelling and understanding the written word.
Have your child read a book. As your child is reading, he may come across a tricky word; have him use strategies they use at school such getting their mouth ready to sound out the word. Find parts of the word they may know, look for littler words inside the words, or blends they may know. As they read the word, or try to sound it out, ask them if the words make sense. Does it sound and look right?
Early fluent East Readers have a green label on the spine.