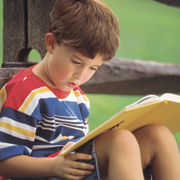 Emergent Readers
Emergent books typically have more text than books at the pre-emergent level but still feature large print and plenty of white space. Emergent readers have more text to decode and a more complex storyline to follow.
Children at the emergent reading level will:
Recognize many of the "Words to Know"
Use beginning and ending sounds to figure out simple words
Listen to themselves read, stop when they make an error and go back and correct the error themselves
Begin to recognize and read word endings, such as -s, -es, -ing, -er, etc.
Activities to do at home:
Use sand or shaving cream to write letters and words. It is a great way to learn letter sounds and letter identification, fine motor skills as well as word building skills.
Check out a wordless picture book. Have your child create the story by using prior knowledge, picture clues and observation to create a story. Wordless picture books promote comprehension, vocabulary, and listening skills and an understanding of story structure and character development.
Ask questions as you read a book together. This will help your child build literacy development, listen carefully and follow along as you read the story. When you look at the cover of the book, have your child predict what will happen throughout the story.
Emergent Readers have orange labels on the spine.