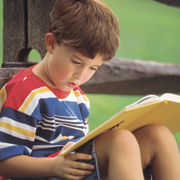 Emergent Readers
Emergent books typically have more text than books at the pre-emergent level but still feature large print and plenty of white space. Emergent readers have more text to decode and a more complex storyline to follow.
Children at the emergent reading level will:
Recognize many of the "Words to Know"
Use beginning and ending sounds to figure out simple words
Listen to themselves read, stop when they make an error and go back and correct the error themselves
Begin to recognize and read word endings, such as -s, -es, -ing, -er, etc.
Activities to do at home:
Encourage your young reader to make connections to what they are reading. If your child is reading about a zoo, discuss a previous or future visit to the zoo. What did you see? What was his/her favorite animal and why?
Practice spelling words. Spelling can help children make connections between letters, sounds and writing words. This letter-sound connection will help children build reading skills since your child will have prior knowledge of basic sounds.
Help your child detect his/her own reading mistakes. Children learn best when they can solve their own problems and learn through their own problem solving process. If your child is stuck, ask questions such as, "Did that make sense?" or "Can you look at the picture to help?" to provide support to your child as they figure out the word. You may also point out smaller words inside a larger word or point out what the letter the word starts with as suggestions.
Visit The West Bloomfield Township Public Library and pick up a copy of the Early Elementary Literacy Calendar. This interactive calendar will provide activities for families to do at home to practice reading skills.
Emergent Readers have orange labels on the spine.