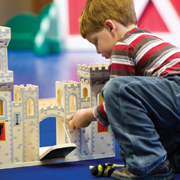 What To Read Aloud
A special poster from the Library called "100 Books to Read in Kindergarten" lists some of the very best picture books to read aloud to Kindergarten-age children. The list includes well-loved classics as well as quality contemporary books that were selected because they are ideal to read aloud. All of these titles are available from the West Bloomfield Library.
Picture books are just the beginning. Your Kindergartner may also enjoy listening to chapter books, non-fiction books, comics and magazines. Also, remember that children can listen to and understand books that are beyond their reading level. Read books to your Kindergartner that are written for older elementary students (preview the book to make certain that it is appropriate for your child's emotional level).
When considering what to read aloud to your Kindergartner, choose books that:
Use rich language, including books that make use of word play and rhymes.
Capitalize on your child's current interests and expand your child's world by introducing him to new ideas and experiences.
Feature engaging characters that your child cares about.
Expand your child's attention span; read increasingly complex and longer books (as your child is ready).