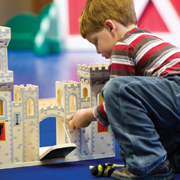 Why Read Aloud
The West Bloomfield Township Public Library
has information, materials, programs and other resources designed to help your Kindergartner kick off this important school year and become a successful reader. This brochure is a guide that parents can use to help prepare their Kindergartner to learn to read. "The single most important activity for building the knowledge required for eventual success in reading is reading aloud to children." This was the conclusion of the 1985 National Commission on Reading. Many research studies since then have confirmed this fact. This guide presents information about why and how you should read aloud to your children in order to help them become proficient readers and learners.
Read Aloud Often
Children who are read to become better readers. When you read aloud to your Kindergartner, you help him or her develop the skills necessary to become a successful reader. The more often you read, the better prepared your child is to learn to read. Reading aloud will help your kindergartner:
Learn letter names and sounds and understand that words are made up of different sounds.
Understand that printed words have meaning.
Learn new and less common words not typically used in everyday conversation.
Become familiar with new concepts and ideas, which increases background knowledge and leads to greater reading comprehension.
Learn about the printed page and that we read from left to right and top to bottom.
Practice oral language skills as you talk about the books you read.
Develop comprehension skills.
Discover the pleasure of reading and develop into a life-long reader and learner.
Read aloud as often as possible. To help make certain that you read at least once a day, set aside one particular time during the day to read - after lunch or before bed, for example. Keep this time special and don't let other activities interfere with reading time. Read at other times, too, whenever you have the chance: while in the car waiting to pick up an older child, at the doctor's office, while traveling - any time your Kindergartner asks to read a book!