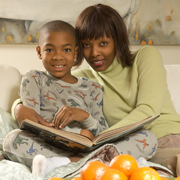 Why Read Information Books with Your Child?
Why parents should read information books with their third grader
Reading information books can be more difficult because of their organization and vocabulary. Help with these more challenging texts by taking turns reading them aloud, discussing the main points and making sure that your child understands what he or she is reading.
As your third grader reads for information, he may encounter ideas, concepts and vocabulary that are unfamiliar and need explanation. Your child needs your help to make sense of this new information. By reading together, you can help your third grader relate broad issues and abstract concepts to her life. This helps increase reading comprehension.
If your child insists on only reading independently and doesn't want to read aloud with you, read the same book and engage your child in a conversation about it.