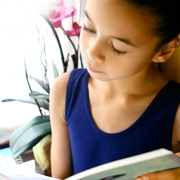 How to Choose Information Books
How to choose information books for your third grader
When choosing informational text, consider the following:
Accuracy - Look at the copyright date. Information about dogs may be timeless, but information about the planet Pluto may change with new space exploration.
Accessibility - How much reading support will your child need? Are the concepts and/or vocabulary too difficult?
Appeal - Are the photos or illustrations of high interest to your child? Are there enough graphics?
Ask the youth librarians to help find appropriate information books suited to your child's interests, reading ability and school assignments.